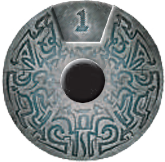 A game round consists of three phases resolved in the following order:
Command Phase
,
Activation Phase
, and
End Phase
.
Players use a round counter to track the current round; the current round number is equal to the number shown in the window of the round counter.
The first player increases the round counter by one during each End Phase before the next round begins.
The game is over at the end of the eighth round.
All items (3)
Community content is available under
CC-BY-SA
unless otherwise noted.